This article was written by ENR for ENR Southeast 
Convocation Hall | Emory University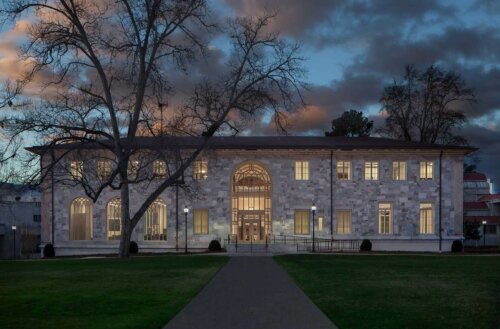 Atlanta
BEST PROJECT and PROJECT OF THE YEAR FINALIST 
Owner: Emory University
Contractor: New South Construction Co.
Lead Design Firm: Collins Cooper Carusi Architects Inc.
This $13.4-million renovation positioned a 46,000-sq-ft campus landmark for many more decades of service, transforming its interior spaces to provide comfortable, modern offices for the university president, administrative staff and board of trustees. In addition to tackling the inherent unknowns of renovation work, the project team also had to erase many components of a mid-1970s upgrade and restore many long-concealed unique historic elements and finishes.
For example, removal of multi-level steel mezzanines revealed multiple large arched steel-framed windows that would play a key role in bringing natural light into the building's new administrative and public areas.
The close attention to detail included altering conventional demolition practices as needed. The mezzanines had to be disassembled using only a reciprocating saw, as other tools might generate sparks that could damage downstairs hardwood flooring and wainscoting. Fire watches provided another measure of safety, as did employing monitoring specialists to ensure asbestos abatement processes were handled safely and correctly.
Coordinating the routing of modern building infrastructure and elevators posed an additional challenge. A BIM model developed from a post-demolition laser scan proved instrumental to integrate mechanical, electrical, fire protection and HVAC networks within constrained spaces, helping resolve many potential conflicts before rough-in work began.
Painstaking efforts to clean and repair interior marble and wood elements, including walls, floors, wainscot and trim, restored these remarkable finishes to their original, like-new condition. The team also removed external mechanical rooms and added a new roof to the structure.
The chancellor's office features a fireplace, large wooden arches, marble inserts and wood paneling along with a larger window and new niche area. Construction crews repurposed upstairs classrooms into open, naturally illuminated administrative spaces.
A detailed plan and construction schedule, constant communication and trade coordination prevented pitfalls such as having multiple activities occur at the same time and place and ensuring material was installed correctly to avoid costly rework.