This article was written by ENR for ENR Southeast 
Our Lady of Assumption | Catholic School Expansion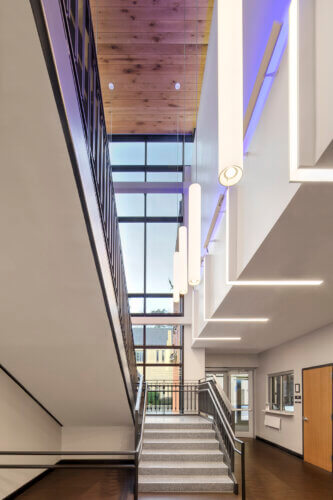 Atlanta
Best Project
Owner: Our Lady of Assumption
Contractor: New South Construction Co.
Lead Design Firm: Houser Walker Architecture
The $6.1-million, 24,000-sq-ft expansion replaces an aged building to provide a new connection with two other structures. Along with a centerpiece lobby, the extension houses new music, science and computer classrooms as well as a new kitchen, cafeteria and administrative offices. Two curtain wall systems and storefront windows complement the brick facade, providing an welcoming backdrop to the student drop-off/pick-up area that also enhances safety and security.
Because selective demolition could not begin until school ended in May, the planned six-month construction schedule would overlap with the start of a new school year. As such, the owner required that the entire south facade be completed by Sept. 4 to prevent construction activities from affecting school functions.
Already challenged with the calendar and limited jobsite laydown space, the project team found itself dealing with permit delays and a rainy summer. Another constraint, the project's location in the heart of a residential neighborhood, added noise restrictions that limited work on weekends and holidays.
While mobile-friendly project management software helped contractors manage the schedule, unexpected issues arose. A centerpiece tongue-and-groove ceiling and pendant light fixtures, already installed above the lobby stairway, were found to lack a sufficient fire rating. The team had to scramble to find both a suitable clear-coat paint and a safe means to apply it. The solution was an electronically powered articulating boom lift that could fit inside the lobby doors. Three spotters were needed to closely monitor the ceiling work and prevent damage to the installed finishes or the stairway's precast terrazzo treads.
Despite the obstacles, the team met the deadline for completion of the south facade. The remainder of the building was completed over the next two months. Close attention to scheduling loud activities minimized the potential for disruptions, giving the impression that construction activity was virtually non-existent.
The contractor's workforce was kept safe as well, with no recordable incidents or lost-time injuries logged over nearly 55,000 worker hours.