This excerpt was written by the Editorial Staff for GC Magazine. 
Georgia offers busy cities, charming towns, stunning mountain views in the countryside, white-sand beaches, and a warm climate that lets people experience all four seasons. Residents and visitors can find professional and amateur sports, world-class entertainment, and many restaurants, dining, and shopping options. Many young families, professionals, and business owners are moving to Georgia to take advantage of everything the state has to offer.
New South Construction Company
1180 West Peachtree Street NW, Suite #700, Atlanta, GA 30309
New South Construction Company has been in the industry since 1990, solidifying its reputation as a premier contractor with its long history, good name, and high rankings. Backed by over 30 years of experience and expertise, the firm uses an integrated and personalized approach to handling every project to ensure that it is delivered on schedule, within budget, and of the highest quality. The firm's impressive portfolio is a testament to this fact, showcasing its dedication to guaranteeing satisfaction, exceeding expectations, and delivering good value to its clients. As a result, the firm has built many solid relationships with its clients, stakeholders, and trade partners. The firm's quality, professionalism, and flexibility have paid off in a big way, and the result is a long list of happy clients who keep returning for new projects.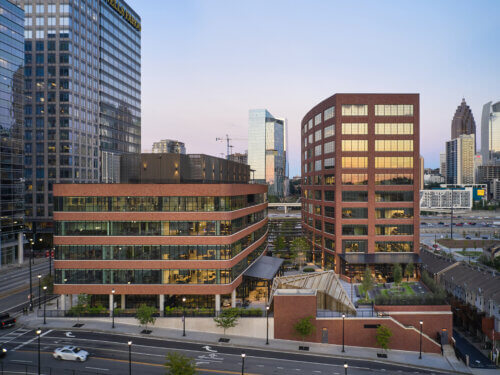 One of the firm's notable projects is the Atlantic Yards, which features two office buildings with 16 floors and 520,000 square feet of office space on top of a three-story parking deck with 890 rooms. The North and South towers have floor plates of about 30,000 and 36,000 square feet, giving each employee 100 square feet. Each office building has green rooftop terraces and a unique system for collecting rainwater.